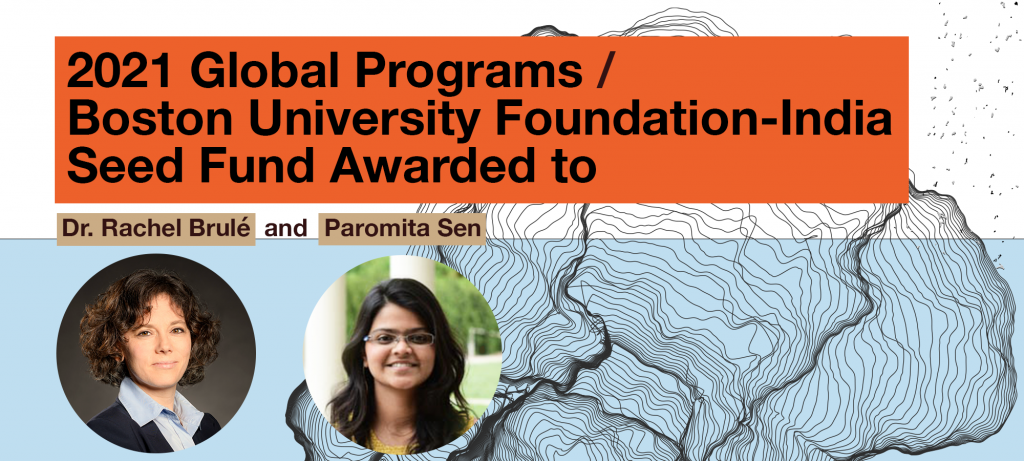 Work aims to identify if peer mentorship groups increase the political agency of first-time female politicians in India.
Boston University Global Programs and Boston University Foundation-India are pleased to announce that our 2021 Seed Fund has been awarded to Rachel Brulé, Assistant Professor of Global Development Policy at the Frederick S. Pardee School of Global Studies and Core Faculty of the Global Development Policy Center's Human Capital Initiative. Her research proposal is titled "Do peer mentorship groups increase the political agency of first-time female politicians?"
Professor Brulé's study aims to see if "peer-mentorship groups that match experienced, active female sarpanches (elected local leaders) with first-time female sarpanches" are able to "improve the political agency of female politicians, defined by their self-perception and centrality in institutional decision-making structures" specifically in the Indian state of Maharashtra. The hope is that the mentorship intervention will "increase the ability of first-time women sarpanches to identify, allocate funds for, and improve subsequent citizen access to goods and services that are vital for advancing the needs of their constituency, in particular for their female constituents."
The Indian principal investigator (PI) is Paromita Sen, Research Manager with SEWA Bharat. This is a global collaboration, in addition to the Indian PI, Professor Brulé is also collaborating with Professor Simon Chauchard, Assistant Professor of Political Science, Leiden University, Bhumi Purohit, a Doctoral Candidate, University of California at Berkeley and Alyssa Heinze, a Masters Student, Université Paris 1 Panthéon-Sorbonne.
"I am incredibly excited about BU Global Programs and BU Foundation-India support, as it will enable us to develop and evaluate the first validated model of peer mentorship as a source of female political agency in the Global South, in partnership with the world's leading female collective, the Gujarat-based Self-Employed Women's Association." said Dr. Brulé. "We are honored to collaborate with scholars, policymakers and local elected officials across India, which is a global leader in mandating women's representation in the most meaningful local elected offices."
"We are thrilled to award the 2021 Seed Fund to Professor Rachel Brulé of Boston University's Frederick S. Pardee School of Global Studies," said Willis G. Wang, Vice President and Associate Provost for Global Programs. "Professor Brulé's areas of expertise in comparative politics, political economy, gender, representation and inequality have come together well in the project and we look forward to learning about the impact this study may have to improve women's political agency and impact in India."
About the Award
The BU Global Programs and Boston University Foundation-India (BUFI) Seed Fund Program is designed to seed new or support existing collaborative research projects in India conducted by BU faculty and their peers in India. The research project may be in any discipline but must directly benefit India. Review criteria for the seed fund include:
Clearly articulated potential for measurable positive impact on India and leads to improved quality of life for its people
Likelihood that the project will lead to subsequent external funding
Well-defined and achievable project scope, activities, and goals.